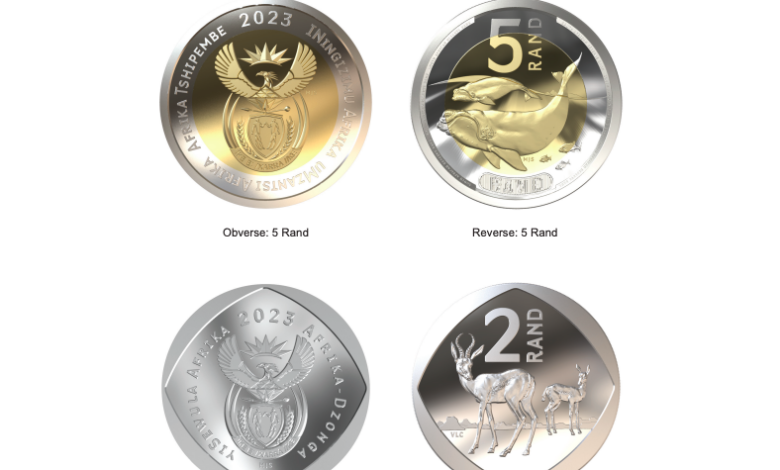 Check Out the New SA Coins to Be Used From January 2023. In 2019, the South African Mint together with the South African Reserve Bank, developed six new commemorative circulation coins. The new coins are dedicated to recognizing 25 years of constitutional democracy. These coins were designed by 7 talented artists among them phenomenal women, Neo Mahlangu and Lady Skollie.
Two years later, the South African Reserve Bank has gazetted the design, dimensions and compilation of the fourth decimal coin series. The new-look coins will be recognized as legal tender from January 1.
The two-tone R5 coin, has done away with the iconic wildebeest as its featured animal. It has replaced it with the southern right whale. The R2 coin has replaced the Kudu with the Springbuck and shifts the borders around for a more diamond shape. The R1 coin replaces the Springbuck with South Africa's official flower, the Protea, and has a new pentagonal border.
The 50 cent coin is dropping the Strelitzia, for an actual bird, with the Loerie making its debut in circulation. The coin has also adopted a hexagonal border, cutting down from the 9-sided shape. The 20-cent coin has replaced the Protea plant, with Aloe. Its border has also dropped from a 9-sided shape and is now 7-sided. As for the 10-cen, it is bidding farewell to the arum lily and making way for the honeybee. Its border is dropping one side to become an octagon.
The R5 coin will maintain its bi-metal alloy, while the R2 and R1 will be nickel-plated steel. The 50-cent and 20-cent coins will be bronze-plated steel, with the 10 cents coin being copper-plated steel.