Celeb News
Tweeps Share Views Over Simphiwe Dana's Statement That Cyril Ramaphosa Is The Worst President We Have Had
Tweeps Share Views Over Simphiwe Dana's Statement That Cyril Ramaphosa Is The Worst President We Have Had. She is one of the most vocal celebrities we have here in SA. Be it political issues, entertainment industry drama, family matters, Simphiwe Dana never shies away from putting her opinion out there.
Using Twitter, Simphiwe has slammed her baby daddy, the Mazwai sisters, Nathi Mthethwa, Masechaba Ndlovu, as well as sexual predators. One of the most famous twars she has had was dragging Musa Mseleku some time in 2020. Simphwe went on a Twitter rage slamming the polygamists reality show Mnakwethu, and also insulting Mseleku and anyone who defended him. A week ago, the award winning musician and actress dragged Universal Music Group for mistreating her as their artist.
This time around, Simphiwe has aimed higher by taking on the president of the country. In a bold and brave tweet, Simphiwe said that Cyril Ramaphosa is the worst president we have ever had. Among other things Simphiwe is not happy about is Ramaphosa ignoring the arts. She also pointed out it has been 54 days of a very important sector protesting, and not a word from our president.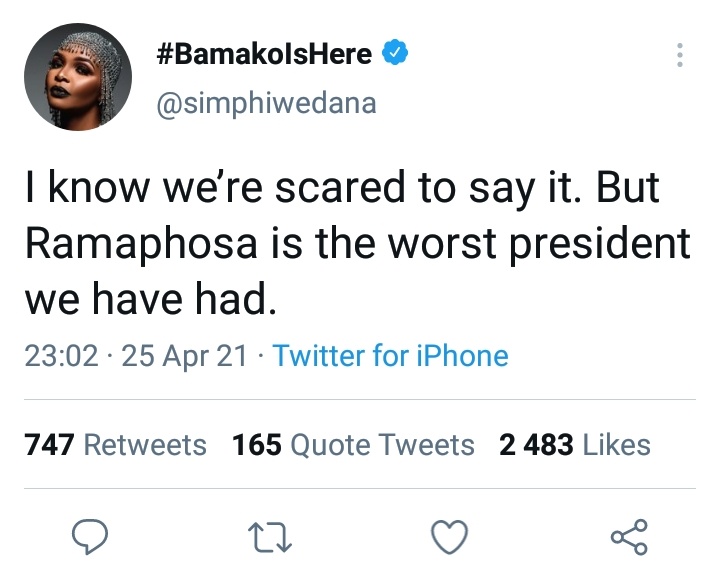 This is one issue that tweeps were not going to let go just like that. Simphiwe immediately trended with some supporting her statement.
Some people though wet after Simphiwe's character. According to some reports, she registered NPO on the 29th of November 2019 and got the grant approved on the 18th of December for a show that was on the 6th of December. They accused of Simphiwe of fraud, and don't understand why she is coming after Ramaphosa.