Celeb News
Randall Abrahams Bags Top Position at Primedia
Randall Abrahams Bags Top Position at Primedia. As they say, when one door closes, even better doors open. This is definitely the case with Randal Abrahams. A couple of months ago, his journey with Idols SA came to an end as his contract was not renewed. Now he is back with a much bigger bag.
The veteran media personality, journalist, businessman and author, joined the Idols SA since the show launched in February 2002, where he co-judged alongside the likes of Mara Louw, Gareth Cliff, Somizi Mhlongo and Unathi Nkayi. Sadly his contract wasn't renewed for this coming season, after almost 20 years on Idols SA.
It was evident that he was going to get a job ASAP, simply because he is talented, passionate, and more over Randall has vast experience in the industry. Primedia Broadcasting is the company that snatched him, and he has been appointed as their new chief executive. Randall, who assumes his new role today, (Tuesday), is taking over from Geraint Crwys-Williams, who has left the company.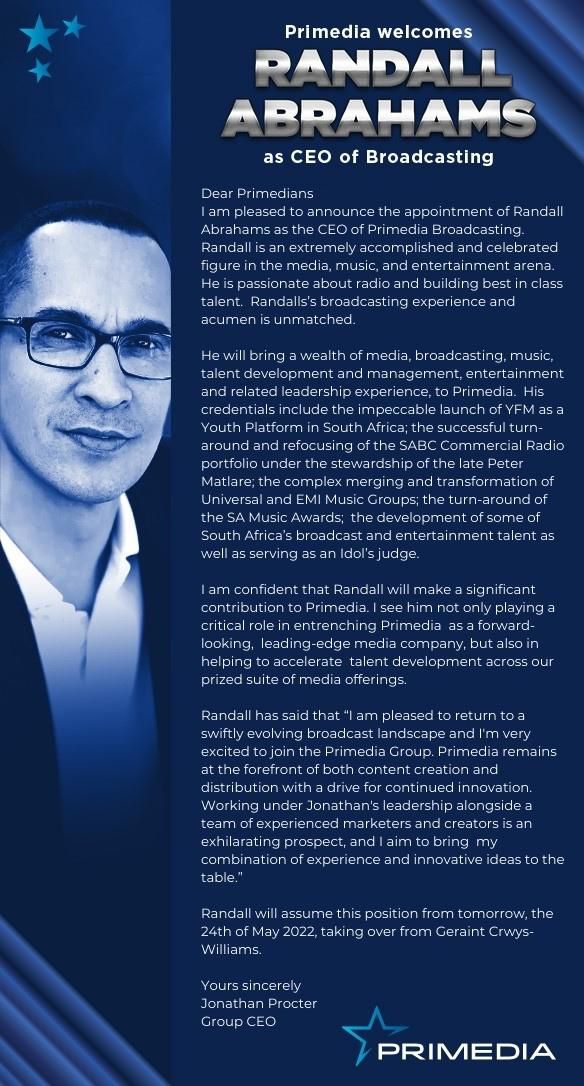 Primedia Broadcasting has positioned itself in the industry as the home of big brands, big personalities, as well as lucrative and responsive audience. The have major radio stations under them, being 947, 702, Kfm 94.5, and Cape Talk. Primedia is also the home of the award-winning independent news brand, Eye Witness News.