Celeb News
Memorial and Funeral Service Details of Patrick Shai Revealed
Memorial and Funeral Service Details of Patrick Shai Revealed. When discussions like memorials and funerals come up, it hits you that indeed the person is gone. A lot of people have been battling to come to terms with the fact that Patrick Shai has passed away, but as more announcements are made, it is now clear that indeed he is no more.
This past Saturday, South Africa woke up to the sad news of Shai tragically taking his life at his home in Dobsonville, Soweto. Since that fateful day, the legendary actor and Gender Based Violence activist, has been trending on both mainstream and social media, with heartfelt tributes pouring in. The likes of Sello Maake KaNcube, Hlomla Dandala, Manaka Ranaka and a whole lot of talented actors, took to social media to express how they feel about Shai's sudden passing.
Shai's family has released a statement, where they announced the dates for his memorial and funeral services. His memorial service will be held on the 27th of January at Market Theatre at 12 noon. As for the funeral, Shai will be laid to rest this coming Saturday (29th January) and the service will take place at Soweto Theatre starting from 8:00.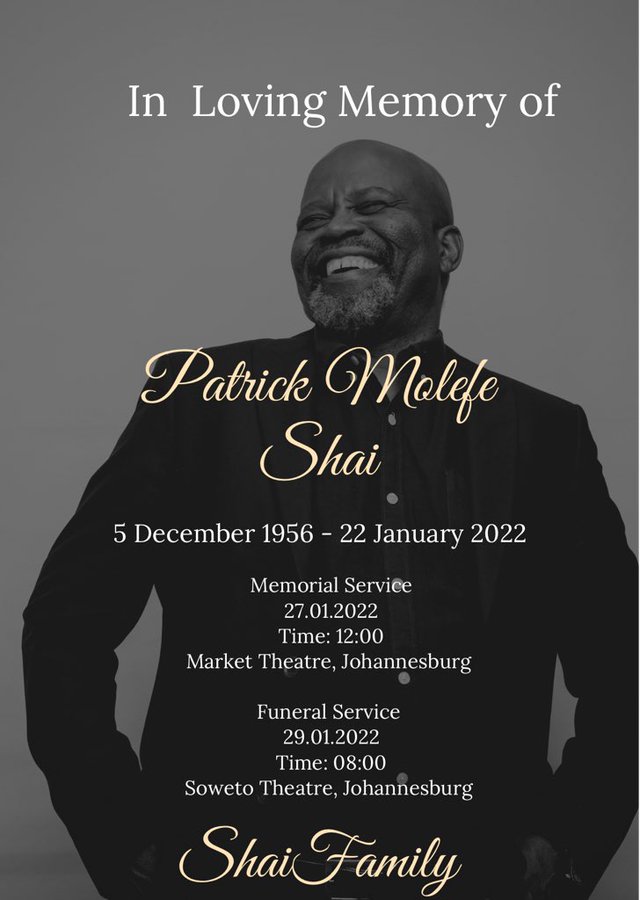 About a week ago, Shai made news for all the wrong reasons, and that is something that a lot of people say contributed to his suicide. He came under fire for using inappropriate language in a video posted on social media, where he challenged rapper Cassper Nyovest to a boxing match. Shai later released a public apology to the rapper and everyone affected by his remarks, saying it was irresponsible of him.
Whatever the case, we can't deny the fact that he was a very talented man, who contributed immensely to the industry. He is known for many roles, including playing the iconic Nkoesheng on hit drama, Bophelo ke Semphekgo. Shai is also well know for roles in major shows like Soul City, Generations, Skeem Saam, 7de Laan and Zero Tolerance. He recently joined the cast of The River, where he played Phasha.