Celeb News
Ntsiki Mazwai Clears Her Name on the Statement Released by Jub Jub's Parents
Ntsiki Mazwai Clears Her Name on the Statement Released by Jub Jub's Parents. When it comes to issues of gender based violence, Ntsiki Mazwai is always vocal, and speaks against abuse. She has supported so many alleged victims including Nampree as well as Enhle Mbali.
This sometimes lands her in trouble like in the case of Nampree, who accused DJ Fresh and Euphonik of sexual assault. As people shared opinions of the alleged rape on social media, DJ Fresh decided to go the legal route. Mazwai was among the many people who republished the allegations, however, she is one of the few people that legal action was taken against. Mazwai lost the case, which cost her R200k. This though has not dampened her moods to speak out against sexual assault incidents.
Over the past couple of days, another male personality, Jub Jub found themselves trending aftre sexual assault allegations against him came out. The likes of Amanda duPont, Masechaba Khumalo, and one of his cousins, claimed that the rapper and TV personality at some point raped them. Social media is still going abuzz with the heart-wrenching news, and as always sides have been picked.
Of all the "I believe You," comments that were made after the ladies shared their stories, Ntsiki has once again found herself as the one in the crossfire. She immediately trended after weighing in on the matter. The poet, musician and TV host is not happy that her name keeps on popping up, on the statement that Jub Jub's released over the weekend.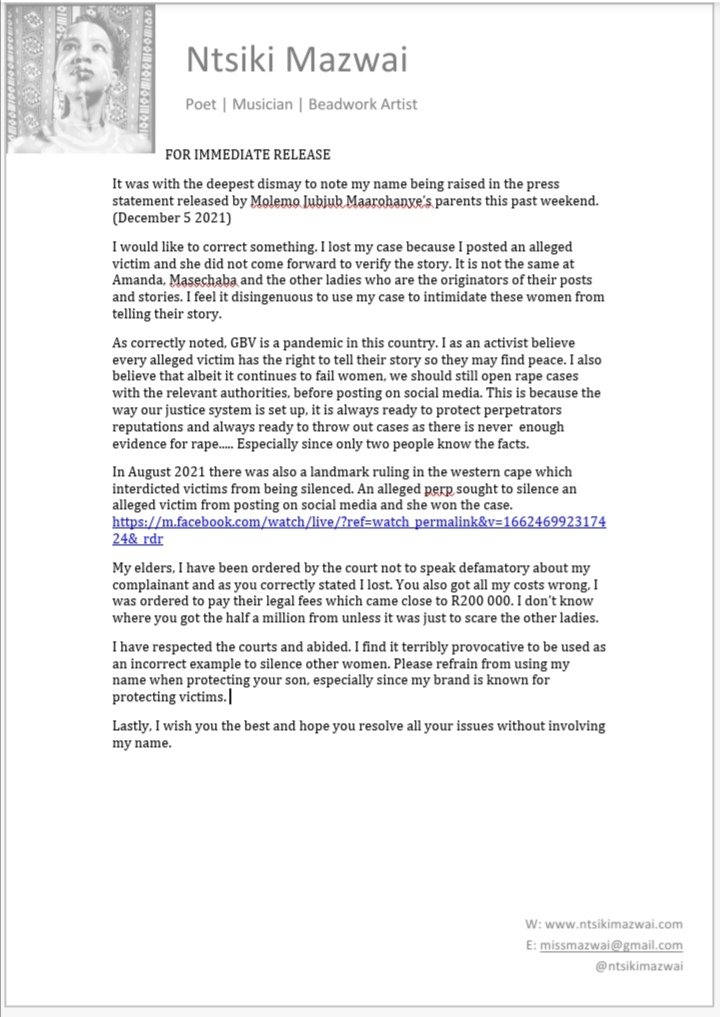 On the statement that Jub Jub's team released, they said they are now suing every woman who claims that he rapped her.
"He will be opening a case of crimen injuria and defamation against Amanda du Pont, Masechaba Khumalo, Bonoluhle Nkala, and Refilwe Kumalo, who have been pulled to campaign against our son by Amanda du Pont on her social media page.
"Their claims have damaged our son's reputation, infringed his rights to privacy and dignity," the statement said.