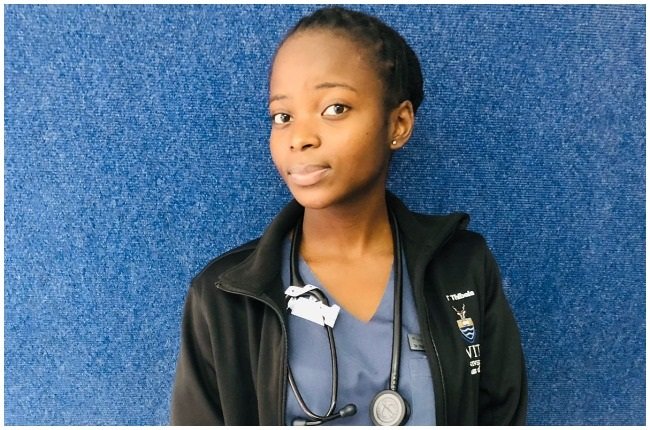 10 Interesting Facts About SA's Youngest Female Doctor Thakgalo Thibela. Age is definitely no hindrance when it comes to excellence. Dr Thakgalo Thibela has been trending on social media, after she was lauded as one of the country's youngest ever doctors. When most of her peers are still trying to figure out their career paths, Thibela is already assisting patients to recovery. Her story has inspired both the young and old, to realize that their dreams are valid.
1. 21 year old Dr Thakgalo Thibela, is from Violet Bank, a village in Bushbuckridge, Mpumalanga.
2. She started Grade R at the age of six in 2004. She was promoted from Grade 6 to Grade 8 due to academic excellence.
3. At Lehlasedi High school, also in Shatale, Dr Thibela was promoted to Grade 10 a week into Grade 9.
4. She passed her matric at 15, getting distinctions in mathematics, physical science, life orientation, agricultural science, history, life orientation and Pedi home language. She got a B in English second language.
5. Her academic excellence earned her the Golden Key International membership, a recognition for students who are doing well academically and excelling in Universities all over the world
6. After obtaining seven distinctions in her matric year, Thibela was awarded a bursary from the Industrial Development Corporation (IDC), a company that partnered with Lehlasedi High School to sponsor the top learner every year.
7. At 16, she enrolled for a Bachelor of Medicine and Bachelor of Surgery at Wits University and funded her studies through a bursary.
8. Thibela battled bullies and was made fun of because she could not pronounce some English words. Fellow students made jokes about her accent. But through hard work and determination, she pulled through.
9. She started her medical internship at Helen Joseph Hospital, Johannesburg, this year. Although she is the youngest doctor, patients have no problem in her attending them.
10. Thibela is determined to achieve even bigger goals and has her eye set on becoming a neurosurgeon eventually. You go girl!