Celeb News
Top 10 Inspirational Young Married SA Celeb Couples
Top 10 Inspirational Young Married SA Celeb Couples. Being young and in love is truly one of the best feelings in the whole wide world. Although, relationships are not easy, we draw inspiration from these young celebrity couples, who are the epitome of successful marriages. The likes of Hungani and Stephanie Ndlovu, Bontle Moloi and Priddy Ugly, Brenden Praise and Mpoomy Ledwaba, and many more are the reason a lot of people believe in love. Throughout various challenges they have managed to make it work and enjoy marriage bliss.
1. The Molois
Bontle and Priddy Ugly are definitely one of SA's hottest couples. The pair has been together for over a decade, and are still giving us couple fresh goals. Bontle and Priddy Ugly got married two years ago and they also welcomed their first child together. They have a YouTube channel, Ha Moloi, which boasts 116K subscribers.
2. The Ndlovus
The two began their relationship back in 2016, a few months after Hungani joined e.tv soapie Scandal!, where Stephanie was already acting. They got married secretly in February 2019, and had a beautiful honeymoon in Mauritius. Ever since then, the Ndlovus, have been serving us some epic couple goals. They have a YouTube channel, The Ndlovu's Uncut, where they give fans the lowdown on their love life and life in general.
3. The Ndlalas
In March 2020, Lerato Kganyago and her husband Thami Ndlala had an intimate traditional wedding. They have the most romantic marriage that is filled with some beautiful events. When it comes to spoiling Lerato, Thami always goes all out. He recently booked a whole FNB stadium for the both of them this past Valentines day. Talk about couple goals taken to a whole new level!
4. The Langas
The two are the epitome of love. After years of dating, Dineo and Solo Langa had a spectacular star studded wedding ceremony .To honor their first year anniversary milestone, Dineo and Solo launched a YouTube channel simply titled, The Langas. Dineo and Solo Langa are also known to be a stylish couple, and together recently launched a cool couples' clothing brand.
5. The Tebows
This is one of the most beautiful couples. In January 2020, former Miss Universe Demi Leigh Nel Peters married Timothy Richard Tebow who is an American former professional football quarterback, former professional baseball player, and broadcaster. If you follow them o social media, you will be inspired by their love which grows everyday.
6. The Rodriques'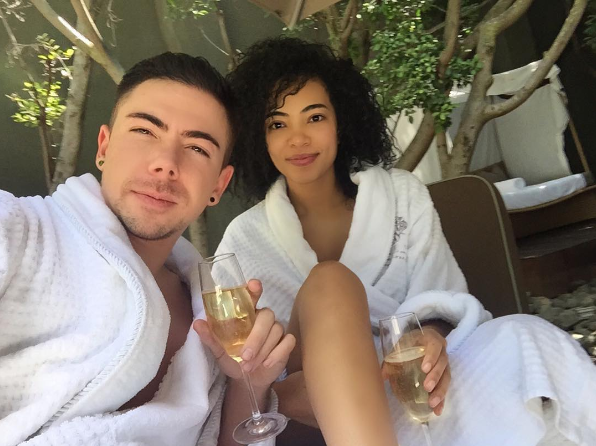 If you are all about baecations, the this is the couple to follow. Actress Amanda du Pont ad her husband Shawn Rodriques, are always traveling the world. Shawn pulled out a spectacular marriage proposal while the two were on vacation in the Maldives. However, they got married privately, and Amanda only revealed the great news in 2020 as she paid tribute to her grandmother.
7. The Gavus
The Gavus are also up there with some epic couple goals. Mmatema and her husband Tshepo Gavu recently celebrated their second wedding anniversary, and had only sweet praises to sing about each other. Guests at the beautiful wedding, included EFF leaders Julius Malema and Dr Bae Ndlozi. They always share beautiful posts about their love on social media.
8. The Ledwabas
Through their webseries, Our Love Journey, Brenden Praise and his wife Mpoomy Ledwaba, have been tackling everything relationships. They also have a new podcast, The Our Love Journey Podcast, which covers topics from , love, marriage, dating, career and so much more.
9. The Ngwenyas
Sidwell 'Psyfo' Ngwenyas ad Aamirah Mirah started smashing couple goals the moment the began dating. After a three year relationship, Sidwell and Mirah sealed the deal by saying their I do's in a small intimate wedding that took place in the mountains in 2020.
10. The Mdutyulwas
5FM and Mzansi Magic presenter, Smash Afrika married his long time sweetheart, Kefiloe Mdutyulwa in 2020. The cute couple always share the most beautiful posts about their love on Instagram. Smah is literally one of the most private stars in the entertainment industry, but when it comes to his wife who is Rami Chuene's daughter, he goes all out.